Ripped jeans are basically a pair of jeans with a frayed, worn-out look in many places, mainly on the knees, where the skin peeks through. These 'rips' frequently arise as a result of overuse of the jeans or can be manufactured at home in a fashion DIY using a razor blade or a pair of scissors. The objective is to relax the tightly woven fabric and let the ragged ends hang loose.
Origin of ripped jeans
Ripped jeans emerged from damaged jeans, which were immensely popular in the late 1970s when the global Punk-rock scene was unmatched. Many young people worldwide were disillusioned with established society, therefore denim became their language of expression.
While In the United States, ripped jeans have been a favourite among musicians, right from Iggy Pop who claimed to be the first one to start the trend of ripped jeans in the United States later to Curt Cobain and The Ramones.  Today worldwide, the ripped jeans are recognized to be related to fashionistas and their rebellious effects. Thus wearing the ripped jeans indicates that one is grounded, but also a rebellious person at heart this means these ripped jeans are used to express dissatisfaction. 
Ripped jeans today.
The denim of now is less likely to rip than the vintage lightweight fabric. A lot of jeans now are from thicker, stiffer material that is far harder to rip. They usually look random, however, the rips in your jeans are anything but. There are various kinds of rip: a hole that cuts right in the material, a shred where threads remain and covering up the hole), and the latter two tend to be smaller, holes can be much larger.
Duelling scars were once rather frequent. A duelling scar meant you were a brave and gallant man. There was such a tradition surrounding duelling scars in some nations that university students would scar themselves to give the appearance of having been in a duel without actually having to risk being in one.
People wear denim cause of some of the reasons below
1. Individuals, particularly teenagers, wear tattered jeans to appear "cool."
Ripped clothing gives young people a fashionable look, as seen by their role models wearing ripped jeans, giving them the perception of being social and appealing to society and their peers. Ripped jeans made a comeback in 2010 and were rebranded as distressed denim. Designers like Diesel and Balmain showing the look on the catwalk, and expensive stores such as Harrods and Fenwick started stocking them. Well recognized designers say this matched with some Eighties fashion revival, spearheaded by the return of jumpsuits, high-waisted pants plus culottes. As of today, ripped jeans became so ubiquitous that also the M and S stock them in bulk (comprising a lot with patches under the rips so the client wearing it doesn't get chilly knees).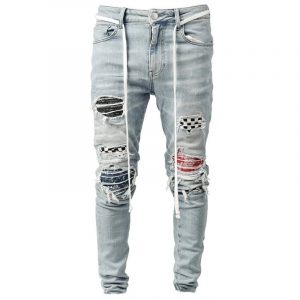 2. A attractive appearance Ripped jeans provide is the active, dusty, rugged look:
 Consider the seductive vintage motorcycle rider. His boots aren't gleaming, and his jacket is worn; he might have a cigarette dangling from the corner of his lips, and his jeans are soiled with oil droplets and tears, as rejected lovers' jeans are prone to tearing. Someone who carelessly embraces the worn character that their way of life provides them has to be charming.
3. Ripped jeans are a fashion trend.
Ripped jeans are now a multibillion-dollar enterprise. Designer labels such as Diesel, Citizens of Humanity, and Balmain began developing torn styles, while high street brands such as Levis, Zara, and Marks & Spencer began stocking up on the item.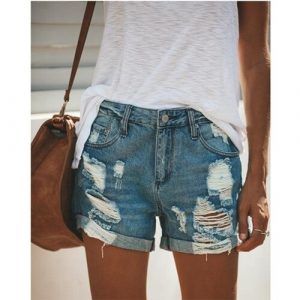 4. The hidden misconception of many people that clothes shape your mood.
 However, one would wonder why so many individuals believe that. This specifically means that if you are wearing it and others are affected by it, why should you wear it? Such people typically assume that our external environment is the result of our consciousness. To get into the nitty-gritty, individuals believe that your clothing style reflects how you are regarded or treated on the outside. This behaviour will make you feel either good or awful. This suggests that most people's behaviour is influenced by what they wear and, as a result, by how they treat others.